Country Comforter

By Christina Cheakalos
British Author Rosamunde Pilcher Reigns as Queen of the Heartwarming Bestseller
Aug 13, 2001

Rosamunde Pilcher thought it was a dreadful idea. To write "a little book about Christmas," as her New York editor put it to her in 1996, when she didn't like Christmas much—when, in fact, she found it "frightfully exhausting." To top it all off, she had retired after the publication of her latest bestselling epic, Coming Home, and was enjoying her days strolling the Scottish Highlands with her dogs. But then Pilcher reconsidered. "I thought, 'Wouldn't it be quite fun,' " she says, " 'to write about people who didn't want Christmas either?' "

So much for first instincts. Winter Solstice, Pilcher's saga of five sad souls who find unexpected renewal in a remote Scottish house during the holidays, soared to the top of the New York Times bestseller list last August and is now a paperback bestseller. Pilcher, 76, says that returning to writing after a three-year hiatus was "like eating something delicious." Adds her friend Rosemary Rome, 79: "I think she wanted to come out of retirement. She's only totally fulfilled when she's writing."

With some 30 novels and hundreds of short stories to her credit, this mother of four has led a fulfilling life indeed. Yet it wasn't until her early 60s that Pilcher became a sudden sensation. The Shell Seekers, a novel about a British family's struggles over an inheritance, "touched a primal nerve in people," says Pilcher's friend and editor Tom Dunne, publisher of Thomas Dunne Books. The novel sold more than 5 million copies and brought its very private author worldwide fame, including, oddly, near-cult status in Germany. Occasionally German fans even show up at Pilcher's three-bedroom bungalow in the tiny Scottish village of Longforgan. "Ros doesn't like it much," says her husband, Graham, 85, a former major in the British army. I say, 'Look here, you mustn't throw them out.' So she gives them a cup of tea, and they're happy."

Pilcher doesn't invariably deliver happy endings. In Shell Seekers, for example, she killed off her heroine. "She writes optimistic books, but there is pain and death," says Dunne. Mostly her stories turn on long country walks, comforting foods and the pleasures of domesticity. A Pilcher novel, a reviewer once wrote, is "like a big mug of cocoa in front of a blazing fire on a winter night."

What Pilcher doesn't write much about is sex. "My children always tease me, 'Oh Mummy, another row of dots!' " she says, referring to her habit of leaving passion to readers' imaginations. "The two most wonderful things in life are money and sex, but the minute you start discussing them, they become b-o-r-i-n-g."

Growing up middle-class in Lelant, a village in Cornwall, England, she learned that there were other things not to be discussed. Her homemaker mother, Helen, a Christian Scientist, was against modern medicine. Pilcher and her older sister Lalage (who died of cancer in 1971) "just thought beautiful thoughts when we should have been wheeled off to the doctor," says Pilcher, whose childhood was plagued with ear-and toothaches. "You felt hopeless."

The girls rarely saw their father, Charles Scott, a naval surveyor in Burma who returned to Lelant only every four years. "It was very strange," Pilcher says. "We didn't know him at all. Not having a father always made you feel that perhaps you weren't quite the same as other people. You felt you weren't complete."

Writing helped her cope. At 18, while a typist for the Women's Royal Naval Service, she sold her first short story—a tale about a lonely young GI—to a British women's magazine for about $20. "And I've been at it ever since," she says. "I just went beavering on." She met Graham Pilcher at a tea party in Cornwall in 1945. "She was very pretty," Graham recalls, "and had very good legs." They married the following year—although at the time, she admits, she wasn't in love with him. "He was a very calm, kind person. I felt I could deal with life easily if I had someone like that—and I've proved myself right," she says. "It was a friendship that very swiftly turned into something stronger. People today expect too much from marriage. Getting married is really like taking on a big new job."

She had her work cut out for her. She reared the couple's children (Fiona, now 53, Robin, 50, Pippa, 48, and Mark, 43) in a Victorian house with no central heating near Dundee, Scotland, while Graham helped run the family's jute business. Amid the hustle and bustle, she wrote. "I thought all mothers had a typewriter in the kitchen," says Mark, now an organic farmer. "I used to sit at her knee and say, 'Don't, don't. I hate the sound of the typewriter.' But the poor woman was just trying to make some money." Still, Pilcher managed to balance motherhood and her work. Says Pippa, now a children's clothing designer: "She never abandoned us for her books." And despite the occasional carping from critics who dismissed her books as romantic piffle, "I'm like Liberace," Pilcher once said, "laughing all the way to the bank."

Not that conspicuous consumption interests her. After the success of Shell Seekers, she recalls, "I looked out the window and thought, 'I can buy anything I want, and what I want is a lawn mower.' Everyone thought that was funny, but it was a frightfully sensible thing to do." She also set up education funds for her grandchildren and donated a significant sum to the village of Longforgan, where she and Graham moved four years ago. "She's a very wealthy woman, but she goes about the village just like any of us," says Peter Mulheron, a neighbor. "She's not flashy."

Recently she and Graham bought a five-bedroom vacation home in northern Scotland. It has plenty of room for her 13 grandchildren, who visit throughout the year, including at Christmas—which, by the way, Pilcher still isn't keen on. "It's dark in Scotland at 3 p.m. [that time of year]," she says. "So if you have a household of people pouring around the place, it makes for a lot of noise and untidiness and TVs blaring."

Quite a contrast to most days chez Pilcher, since she seems to have entered her second retirement and her typewriter has been silent of late. "I've been working flat out all my life," she says. "I rather relish, at my age, not having the pressure." Perhaps. But don't write her off yet. "Last time she said she was going to retire, she had just completed a lovely new writing office for herself," says Pippa. "We thought, 'Well, what's that for, then?' She's not the retiring type."

Christina Cheakalos
Nina Biddle in Longforgan




An Interview with Rosamunde Pilcher

From The Book Reporter.com
August 11, 2000

Rosamunde Pilcher is a beloved author whose books have won much international acclaim, and her most recent, WINTER SOLSTICE, is one of her best yet. Bookreporter.com's Writer Ann Bruns --- who had never experienced Pilcher before --- fell in love with her novel and is now a devoted fan. Find out what inspired her retirement age romance in WINTER SOLSTICE, how she feels about the deterioration of Scottish estates, whether she will write another novel in her lifetime, and much more in this interview.

TBR: One of the most appealing aspects of your new book, WINTER SOLSTICE, lies in the characterizations, especially Elfrida Phipps and Oscar Blundell, both of whom are retirement age. Did you start out intending to write a story that would incorporate some of the more poignant difficulties of aging, or did that evolve some time later?

RP: No, I started out writing about two mature people, both of whom had come through tragic times, finding companionship and a new love with each other.

TBR: WINTER SOLSTICE encompasses so many emotional facets. The most prevalent is the loneliness that many of your characters experience, in particular those who have lost a spouse. Elfrida laments, "Perhaps that was the worst of all. Not having someone to remember things with." Is the absence of that special companionship that couples share the most painful type of loneliness? Do human beings have a need to be partnered to be truly happy?

RP: I don't think people need a partner to be truly happy. A self resourceful person can lead a full and happy life without a companion...simply friends. But for Elfrida, it was different --- and she missed her lover and wanted someone to remember good days with.

TBR: Was it their desperate need for companionship that ultimately drew Elfrida and Oscar together or would they have fallen in love under different circumstances anyway?

RP: I think Elfrida and Oscar were twin souls. Their relationship from the very beginning was one of recognized compatibility, despite the fact that he was married to Gloria.

TBR: Even though Gloria Blundell was a heavy drinker and had been drinking the night of the accident, Oscar never seems to hold her responsible for the death of their child. Wouldn't most people in that situation tend to feel just the opposite?

RP: Oscar never blamed Gloria for the accident. Simply himself, for not having the foresight to drive both wife and daughter to the firework party.

TBR: Elfrida was such a dichotomy of moralistic values. On the one hand, she'd been living with a man while he was estranged from his wife, and had encouraged her cousin Jeffrey to leave his unhappy marriage with Dodie and marry Serena, yet she abhorred the idea of a woman stealing another woman's husband. Isn't this a rather fine line of distinction?

RP: Elfrida's moral code was fairly flexible. ALL she disapproved of was the single woman, divorced or widowed, taken under the kindly wing of a good girlfriend, and then scarpering with the kindly girlfriend's husband. This was the situation in which she found herself, and she was to have no part in it.

TBR: Another central feature of WINTER SOLSTICE is the focus on family relationships --- husband/wife, mother/daugher, father/daughter, sister to sister. Dodie's daughters, Nicole and Carrie, have both suffered from a lack of nurturing, and Nicole is carrying on the tradition by treating her own daughter as an inconvenience. The implication is that Dodie's personality is the root of this dysfunctional family; Jeffrey seems to be viewed as blameless. Isn't his emotional absence in his daughters' and granddaughter's lives a contributing factor?

RP: Dodie's personality IS the root of her dysfunctional family. She is bone selfish and always has been. Jeffrey, not blameless, has nevertheless done his best, cared for his wife and children, and seen the children on their way. His wife, divorced, is well off and independent. As for him, I think he deserves a little happiness with Serena, at the end of it all.

TBR: Village life in rural England and Scotland is portrayed as one of community involvement, sharing responsibilities and caring for those in need. Even the elderly employees of the now defunct estate were watched over by local residents. In fact, one resident comments that if Oscar returned to his hometown after a 50 year absence he'd be welcome with open arms. We seldom see that kind of kindred, neighborly spirit today. Is our more mobile society impacting our sense of belonging to a community?

RP: I think in Scotland, where life jogs along at a slower pace, people do stay and live in small communities and take care of each other. All the inhabitants of Creagan would have remembered old Mrs. McLellan, the "doyenne" of the Big House, with much affection and respect. Her grandson would automatically have been welcomed back into the fold for her sake.

TBR: Elfrida and Oscar were concerned that their "living arrangements" would appear scandalous in the eyes of the local residents as well as her family, yet no one seemed the least bit offended by it, not even the minister and his wife. Was it because of their age or a reflection of more relaxed social morès?

RP: Life and moral values move on and change. Elfrida and Oscar's design for living would have been of no concern to any person provided they fit in, were friendly, and became part of the community, which they did. Oscar was also the grandson of old Mrs. McLellan, which would automatically give him carte blanche. The Minister, Peter Kennedy, is a wise man, and would be nothing but benevolent. He recognizes a truly good man when he sees one.

TBR: Despite her lack of a stable home life, Lucy appeared to be quite well-adjusted and resilient. She exhibited many personality traits of a typical teenager --- except perhaps her willingness to tackle household chores. Does this suggest that those born with a survivalist nature will endure despite the quality of parenting? Or does it require some positive influence from another source to ensure their success?

RP: Lucy is perhaps a little old-fashioned and biddable. She is not a modern, self assertive child. Such children still exist. She is simply looking for a bit of colour, companionship, and love in her rather boring life. A normality which she knows she is missing out on.

TBR: At one point, you alluded to the origins of the celebration of the Winter Solstice? Can you elaborate any on the history behind this?

RP: Winter Solstice, really nothing more to say.

TBR: Your descriptions of the deterioration of many local estates painted such a tragic picture. Are there actually a great many old estates crumbling and neglected in areas of Scotland? If so, couldn't they be put to some useful purpose while preserving them as much as possible?

RP: Yes, large estates do go downhill. Many of them were built and the land farmed and used for sport during the rich Victorian years, when labour was cheap, workmanship excellent, and a whole different sense of values existed. They could be put to some useful purpose, except that they are isolated and often situated in countryside which cannot be used for anything agricultural. That was part of their charm. It is hard to find a useful life for them, and the families who inherit them either take in paying guests, let out the shooting and fishing, or turn them into historical tours. Dubrobin, the home of the Duke of Sutherland, is typical. A historical tour, while the Lord Strathnaver lives in a converted dairy.

TBR: When you write a novel like WINTER SOLSTICE, do you begin with an outline of a story in mind, or do you create the characters and work outward as they develop?

RP: I started WINTER SOLSTICE with five characters. The story is what becomes of them.

TBR: With such a long career in writing, do you have any sage advice for budding authors out there?

RP: Budding authors, be self-disciplined. It is a lonely job. And LISTEN to experts.

TBR: What authors influenced you when you began your writing career? Who do you enjoy reading for pleasure today?

RP: I read my first Monica Dickens, called MARIANA, when I was about twelve. From her I learned a great deal about writing novels.

TBR: Will it be another 5 years before we see another Rosamunde Pilcher novel, or do you already have something cooking?

RP: I have no new book cooking. At my mature age, I shall probably not write another novel, but we shall see.


back to top
---
Sex and Money: so life-enhancing
Monday, July 24, 2000

Bacon is sizzling on the Aga, there's a scent of wax polish, men have manners - Rosamunde Pilcher is back. Elizabeth Grice meets her.

"ELFRIDA, with a basket in her hand and Horace firmly clipped to the end of his lead, closed the front door of her cottage behind her, walked down the narrow path, through the gate, and set off down the pavement towards the Post Office and General Store . . ."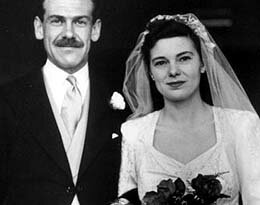 December 1946: Graham and Rosamunde on their wedding day
These unsensational words will quicken the pulse of Rosamunde Pilcher fans across the globe. They announce that the long winter of her abstention from romantic fiction is over. Five years ago, the author of The Shell Seekers and Coming Home said she had written her last book, honoured her contracts and intended to spend more time with her family and friends. She was 71 and had made a fortune. There was no reason to disbelieve her.
Suddenly, with the polite click of Elfrida Phipps's gate, we are back among the reliable sights and sounds of Pilcherdom: a world of strong women, well-mannered men, bracing landscapes, big dogs, loyal cleaning ladies and houses that smell of wax polish.
Pilcher's books are about coping with life's upheavals. Sex is strictly between the lines; shopping means getting in the groceries. Whatever the traumas of the previous night - and there are few crises that cannot be met by a large whisky - her characters can look forward to the restorative smell of bacon sizzling on the Aga for breakfast and an endless supply of scalding coffee.
"I am terribly uninterested in shopping," says Pilcher, smokily, "but I think sex and money are two of life's great enhancers. They make life magic. They make the sky blue and the sun shine and everything wonderful. But once you start writing about them, unless you do it quite beautifully, they become very b-o-r-i-n-g. I won't say 'offensive' because I'm not offended, but in so many books they drag sex in by the legs and you want to turn the page because it's so boring. To write very intimately is a great art - and it must be romantic, not just physical."
In this department, she yields to the superior powers of Elizabeth Jane Howard, who "can write a really steamy sexual scene and it feels true . . . I think she is an enormously experienced lady".
Pilcher's strength is knowing what she can do well and writing about what she knows. She doesn't, frankly, give a damn about literary snobs or being called the queen of kitsch. With sales of 60 million from all her titles, why should she? "I am a bit like Liberace: laughing all the way to the bank," she says, reaching for another Marlboro. "You can't please everybody. If you sat around waiting for the critics to praise you, you'd never do anything. You've written the book. You just have to let the brickbats come."
Pilcher comfortably occupies that undervalued middle ground between light fiction and serious literature. There are flashes of the Mills and Boon writer she once was - as in the parodist's dream: "He took her into his arms and she leant against him, her shoulders heaving, weeping into the front of his Barbour" - but she has a way of tapping into the emotional life of her readers and making them care about characters not unlike themselves.
Her definition of her female constituency is recklessly honest. "Mostly, I would say, the older lady, or the family lady. The mother doesn't mind handing my books over to her daughter because they're not full of sex, drugs and shopping. Granny can hand them on to her granddaughter, her sister, her niece. Readers say things like: 'Your new book got me through a bad time when my husband was ill'. The Shell Seekers is still in print and selling like mad everywhere."
This was the book, based on her early memories of Cornwall and London, that toppled Tom Wolfe from number one in the New York Times bestseller list in 1990 and became the highest-selling paperback of the decade. It has sold 5.5 million copies worldwide and was made into a television film starring Angela Lansbury and Patricia Hodge. If for no other reason than that she sells, sells, sells, Pilcher has a huge claim on our attention.
Until Shell Seekers, she belonged to that industrious band of unknown women who tapped out saleable stories at the kitchen table while bringing up children, supporting the breadwinner and running the house. In the words of a friend who knew them way back, she was "the wife of Major Pilcher of the Black Watch, the beautiful woman of the home, writing her little books".
But Major Pilcher's wife was not happy at the way her little books were being treated. "They were being peddled as a very inferior imprint of the Collins publishing house," she says, acidly. "They looked trashy. They were sold in a trashy way. I said: 'Y'know, if you're not going to publish them with pride, don't publish them at all'." So she gathered up her titles and defected to St Martin's Press in America, selling all her English-speaking rights.
It was a smart move. "I don't know where Rosamunde Pilcher has been all my life," the New York Times reviewer crooned, "but now that I've found her, I'm not going to let her go." Americans were entranced by the boggy, heather-clad landscapes of her stories and her reassuring belief in the ability of humankind to cope with whatever life throws at it. She became big in Brazil and Scandinavia and a cult figure in Germany, where she is the bestselling post-war novelist.
It was her American editor, Tom Dunne, who persuaded her to try a longer, more autobiographical book. Entirely without hype, The Shell Seekers became a bestseller within three weeks. Pilcher is convinced that she owes a great debt to those "nice little ladies running dear little bookshops in the American suburbs" who spread the word that here was a safe, engrossing read.
"I don't think anything will have the impact Shell Seekers had. Everything I love was in that book: Bohemian people, painters, paintings, Cornwall, the way London used to be. I was terribly bereft when I finished it. I had walked round the fields talking to all my people for so long and suddenly it was all over. I had nobody to chat to any longer. They'd all gone."
As the cheques started to roll in, Pilcher was overwhelmed by an inexplicable feeling of doom. "I felt something ghastly was going to happen. It must have been a sudden awareness of responsibility. I knew I had to think ahead, plan for the future."
It isn't that they had previously lacked means. Graham Pilcher had been a director of the family jute business in Dundee. They lived in a big house surrounded by nice paintings and taken-for-granted antiques. There was a swimming pool, a tennis court, a paddock and several acres of grass. So paralyzed was she by the need to be sensible that her first, and for a long time her only, extravagance was to buy her husband a ride-on mower. It was six years before she partially renovated her kitchen and installed an Aga.
If anything, she began to scale down. With the four children off their hands, the Pilchers left the family home and moved to a ranch-style bungalow in the village of Longforgan, near Dundee. They even went for smaller dogs - long-haired dachshunds instead of labradors - a kinder solution than the one meted out to her antique furniture: she cuts the legs off stools and tables if the height isn't right.
There is a lingering frugality about Pilcher which probably stems from her family's genteel poverty and a reluctance to take anything for granted. She's sharp, savvy, kind - and nothing like as whimsical as readers who send her flowers and pictures of their homes would like to think.
"Nothing is ever said about money," she says. "I deliberately never talk about it. We never talk about anything beyond the two of us. If the papers say I'm rich, I just pass it off. It's nothing to do with them. It's nothing to do with anybody - not even our children, actually."
Graham Pilcher is 84 and many men of his generation would find it hard to be generous about a wife's sudden fame and fortune. But he is as genuinely delighted for her success, and the security it has given them in old age, as she is careful not to flaunt it.
"I would never dream of belittling all he did for us when we were young," she says. "He kept the family together, went off to work every day, earned a living, paid for the children's education. I wasn't earning enough to do anything like that. Now, if he wants to, he can go and buy himself a big new car, but he doesn't."
They're already well-travelled, Disneyland holds no appeal and they are far too busy to go on a cruise. As for clothes, you have only to glance at Mrs Pilcher's washing line to see where her priorities lie - three identical Marks & Spencer cardigans are pegged out in the sunshine.
When the shock of her success had sunk in, Pilcher bought a five-bedroom flat above the Victorian bank in Dornoch, Sutherland, where she could enjoy the sea air and her husband could play golf. But her defining gesture was to make over the profits and copyrights of her next two books to her children.
"Brilliant move," she says. "All I had to do was live for seven years. My chartered accountant suggested it. But the legal complications were tremendous. I had to have a special patents man from London. Because an unwritten book has no worth, it was like giving away a blank canvas or a blank piece of paper."
Pilcher quickly filled the blank piece of paper with two more successful books - September and Coming Home - and set her children up for life: the greatest satisfaction her money could buy.
"They had struggled for long enough. We've had two divorces and various babies being born at the wrong time - all the usual traumas, but you come through them. At least now they've all got good houses which they own." The eldest son, Robin (also a novelist), and his family live in a farmhouse set in 400 acres near Dundee, inherited from his paternal grandparents. Fiona has just bought a "grown-up" stone house in Somerset. Phillipa lives on Long Island, and has a beach house in Hawaii, and the youngest son, Mark, farms in Cornwall. "They are all sensible and have enough to see them through if they're careful."
Pilcher's new book, Winter Solstice, has what Dunne calls "emotional wallop", dealing as it does with the universals of widowerhood, overcoming grief, finding love. Her central character, Elfrida, is childless and "past the age when her heart leapt for joy" on seeing an attractive man. But that doesn't stop her from being surprised by life. "You're lovers?" inquires a young relative. "We are." You cannot accuse Rosamunde Pilcher of cheap thrills.
Central to the story is the violent death of a child. "I can't imagine anything more dreadful," she says.
The Pilchers had a fifth child, Amanda, who died after five days, but she is adamant that the death of a baby does not compare. "Some babies are not meant to survive and she wasn't. She was very sick. The paediatrician, a very godly man, said to Graham: 'I think we'll let this one go', and I've never ceased to remember him and to be grateful to him.
"I never saw the child, never held her, so I wouldn't be so presumptuous as to say I suffered as other mothers did. She was just a little burden I was allowed to put down very early on and walk away from."
Though she insists that her books don't have messages, Winter Solstice reads like an antidote to the counselling industry. In the depths of bereavement, it argues, there is nothing more to be wished for than the hand of a friend. "People are left alone to mouse along, putting one worn gym shoe in front of the other and getting through the days until, gradually, the sky looks blue again."
Pilcher says she believes strongly that "life is part of death and death part of life". With characteristic briskness, she says she doesn't want to think very much about eternity. "There are very few people I want to see again. I'm not a great believer in the afterlife. I can't see it as anything other than the most hideous cocktail party. All you'd see would be the people you didn't want to see, and all the ones you wanted to see you wouldn't be able to find."
But perhaps, when she gets there, someone will accost her with the words that put her on the map: "Rosamunde Pilcher, where have you been all my life?"


back to top
---

Writer extraordinaire
Novelist Rosamunde Pilcher shared literary inspiration and hints for aspiring writers during a recent visit to Fredericksburg.

By LUCIA ANDERSON
- The Free Lance-Star
October 22,1999


ROSAMUNDE PILCHER could easily be a character in one of her own novels. Serene, gracious and quietly humorous, the best-selling British author is all of a piece with the well-bred, intelligent people she writes about.

"I guess I write about them because they're the sort of people and the way of life I know the most about," Pilcher said in an interview at Mary Washington College last week.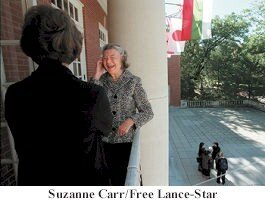 Pilcher, 75, was in Fredericksburg for the semiannual meeting of the Regents of Kenmore. She has been a regent since 1994.
Officials at the college took advantage of her presence in town to snag her for two lectures-one for students and one for the President's Book Club and Authors Series.
Pilcher has written novels and short stories for more than 50 years. She achieved international best-seller status with her 1987 novel "The Shell Seekers," followed by "September" in 1990 and "Coming Home" in 1995.
She mined a lifetime of practicing her craft for hints to give the budding writers among Mary Washington's undergraduates.
For one thing, Pilcher said, she must get to know her characters before she can figure out what they're going to do.
"You have to live with them, talk to them for a long time. Then you can put them in situations. ... The plot comes from the characters," she said.
She told the students they have to decide whether they're writing to get a check at the end of the process or just for themselves. If they're writing for money, they have to know what's going to sell.
"I'm not desecrating art," Pilcher said, "but you have to decide if you're going to fish or cut bait."
She has been financially successful for years, but widespread recognition took its own sweet time arriving on Pilcher's doorstep. She was 14 when she decided she wanted to be a writer, and she started with short stories. She later tried novels, and as she persevered, she said, her books became less trivial, less predictable. She was 60 when she wrote "The Shell Seekers," her first international blockbuster.
"That's quite a long time to wait," she said.
The daughter of a commander in the Royal Navy, Pilcher was born and raised in Cornwall, that romantic appendage to England's southwestern edge.
"I was a voracious reader; I lived in a house filled with books," she said.
Her mother's sister, who lived in Philadelphia, gave Pilcher's family a subscription to the Ladies Home Journal every year, and young Rosamunde devoured its short stories.
"I absorbed the techniques," she said.
Her father was away much of the time, and her only sibling was a much older sister. But Rosamunde enjoyed solitude.
"I was happy to be on my own," she said. " There was so much going on inside my head."
Porthkerris, the little Cornish town where so much of her writing is set, is actually a fictional name for St. Ives, where she grew up, she said.
"Place influences what you write," she told the Mary Washington students. "I think place is terribly important."
Pilcher has lived in Scotland since marrying a Scotsman 53 years ago, and that landscape plays almost as large a part in her writing as Cornwall.
"Coming Home," her most recently published novel, is close to being autobiographical, she said.
"It's not me, but all the same things happened to me."
Set before and during World War II, it re-creates a world now vanished.
"I wrote it for my grandchildren," she said. "I wanted them to know what it was like."
Pilcher has 13 grandchildren, five of whom live on Long Island.
"It was rather fun to write about something so real, a kind of self-analysis, I guess," she said.
She sold her first short story while serving in the Far East with the Women's Royal Naval Service during World War II. A London women's magazine bought it for 15 guineas. She was 18, and she thought that was a fortune.
"That was one of the best days of my life," she said.
She married Graham Pilcher in 1946 at the age of 22, and soon began to write again.
"I wanted to make some money," she said. She didn't like depending on her husband for pocket money.
She did her writing in the kitchen, while keeping house and raising two sons and two daughters.
"If I shut myself away, everyone would come and beat on the door. If I was in the kitchen, nobody bothered me. They took no notice at all."
She wrote on a manual typewriter for years but now uses a word processor.
She's dryly amusing about her high-tech skills.
"I can do double spacing, and I can do italic. I can't store, but I've learned to print out before switching off the machine."
The word processor doesn't give her the same satisfaction as the typewriter.
"I loved to bang away and pull sheets of paper out of the machine. I felt like I was accomplishing something."
She's working on another book, this one about Christmas and the way it brings people closer to each other.
She and her husband still live in Perthshire, Scotland, near Dundee, with two long-haired dachshunds named Daisy and Polly.
When she's not writing she gardens, takes care of her husband and tends the dogs.
"It keeps me so busy I wonder how I ever had time to write," she said.
"But when I'm writing, I wonder how I ever had time to do anything else."


back to top
---

A Dear Soul Person

by Franziska K. Müller translated by Jakob
The visit took place on May 20, 2004


RP's books can be read as they are written on rose petal. With her, heart is always rhyming with sweet pain. The nearly 80 year-old sky-blue tempered woman, gives million of people power for their own life. Thank you.
Her best-sellers "The Shell Seekers", "September" and "Wild Mountain Thyme" were sold 15 million times all over the world. 7 million of viewer, most of them women, watched to the film at Sunday evening on the German TV. When in the Scottish upper middle class, false love, avarice, dispute within the families makes trouble and unhappiness, the RP fans knows with certitude that comfort, trust and friendship will win at the ending. "No drugs death, not one drop of blood" praised the magazine Illustrierte Bunte the successful British author with the German sounding name.
RP is yawning. She is still drowsy. The 79 year-old was arriving from Scotland the day before. She was invited by her relatives on Rheda Castle at the little Westphalian town of Rheda-Wiedenbrück. Now she is toddling with little steps to a ornate sofa. From the ceiling of a baroque hall dangle a crystal lustre. Gloomy wallpaper adorn the room. "A wonderful day" says the author and point her finger to the window. The sky over Germany is grey. It's drizzling.
"Dew drops are on the roses", assert Mrs Pilcher, that made shortly before a walk through the park. She pick a invisible fluff from her woollen jacket and smiles. Untamed optimism and a inclination to put things on an orderly basis - from styled bush hedges to the perfect crisped outside of roast lamb up to the babys they born nine month after the wedding night, made the old British Lady to the most reading author of the present time.
The straight silver grey hair cut at chin length stuck with little combs to the back. A blue pleated skirt and comfortable shoes indicated more of a informal night in front of a fire place then a week end in high society atmosphere. At her neck swing a long chain with a fold-back medallion. We can bit three pheasant that behind the oval cap will be the image of her husband Graham, that is married nearly 60 years with her. Or as well one of her four children. " Totally wrong" says RP vigorously, during she hold the piece of jewellery closed in her hand.
A mineral water and two glasses are put on the table. She looks with morose glance of the barren place setting.
The magnificent house with his surroundings and his owner could give a quite good pattern for a new novel. Princess Marissa to Bentheim-Tecklenburg is a great-nice of Graham Pilcher. The 30 year-old pretty British woman in a non-ironed Prada-skirt and flat-bottomed shoes, steps quickly through the chamber. Prince Maximilian looks like a younger edition of Christoph Schlingensief. Although he is an adherent of the traditional values he allows her wife to open a Biergarten ( Beer garden) and a castle-shop. The prince an princess call RP " aunt ". RP call them "a lovely couple".



On this week end the castle owner hold a three days feast. At the early morning, supplier, servant and decorator are occupied to make the big park to a party garden with selling points for the better way of life lover. The climax of the feast is undoubtedly the presence of the best-seller author. She is guest of honour and the crowd puller.
She had to sign the golden book of the town. And she will dedicate hundred of books. Already we baptised a rose to her name. " an old-fashioned sort with opulent blossom and few thorn" says RP in a hoarsely voice. She yawn again. "That feast was Marissa's idea". That was not an accusation but a praise to her. The thought that even member of the nobility endeavour to make the best of bad financial situation makes RP enthusiastic. Intelligent, but not a know-it-all, able but never determinant, also goes her books heroine through the life.
The job description notebook of female figure includes, clearing out broom cupboard and polish wooden floor as well share out advices, comfort and company. When the women put down their apron and garden clothes, appear beneath them beautiful clothes from grand Couturiers. They brushes their hair with a silver brush coming out from a family treasure. Linen smells of lavender, and CD's are still called disc. For good school report the child receive the suede lumberjack that he longed-for. And when the men comes home after work in the evening, the ice cube are already tinkling in the Whisky glasses.
But still the upper middle class is not immune against money troubles. But for antique furniture and regularly shopping by Harrods it is enough money after all, in her books. The result is that, that way a huge among of luxuries are accumulate in all area of life. They are described with great love to the details and a keenness on brand, that only Bret Easton Ellis in her literary horror novel "American Psycho" could take up, until today.
Unworldly narcissistic men
The Pilcher men -often absent or working in the background -determine the pace who things happens as they figure as main cause of problems. They are inconstant in their feelings and they will big cars. They stamp like stubborn little children over the social trading floor or through the Scottish Highlands. On business affair they are seldom talented. On private life they says phrases like that "Babys don't cost money". And when they have to go on war or they lose through speculation the family fortune. "Darling, don't bother, the rent for the coming month is paid." They are unworldly, narcissistic and predictable. "That is why they have to be touch with velvet gloves" explain Mrs Pilcher "Otherwise we don't come to the aim with they".


The idea that feminine ability to compromise and cheerful mediation can resolve almost all conflicts -which are swarming in her novels, RP shows that with dozens of example. The basic main figures are, mother, mother in law and grand mother with patience, discipline and diligence, Also when the perfection they are striving for is going to be an illusion at the latest when the children goes older, they keep imperturbable optimistic.
"Together with monogram embroidered napkins, the furs, the funny cars and other status symbols its all about the happiness of these women and the way they get them", says the author and concede, "Only one figure in the Shell Seekers could got enough of that". Figures that they don't deal with the rule of the game, sometimes dies out of her books in an ordinary way.
Abundance, beauty, proposals, children, blessing break from time to time, unexpected by the other, and the message is clear like the windows in the houses of the responsible. When you will force more than what is entitled to you, you will get nothing at the end.
The Süddeutsche Zeitung ( South German Newspaper ) attempt to confront RP with the facts of the new age and the feelings of emancipated women and mothers failed pitiful. The paper put Pilcher together with the merciless, unromantic Fay Weldon at the same table and let the authors discuss with each other. Fay Weldon thought "Motherhood is a lifelong failure, which we have to settle with", when RP report from an only unpleasant experience with her daughter: The 17 year-old refused to go to the university and went away to the city. To further prejudices about men and against minors she react with lack of understanding: "Graham is - except little faults - the best man that ever was, and I love children. I find them incredible interesting. They brighten me up".
What is speaking out of the heart from a huge fan community or at least give good entertaining hours in a comforting and well-bred world, let the hair's standing on end of the feature writer. "We have only to compare the books from John Updike, which describe also family life with the books from RP to see the line between literary and writing", criticized the FAZ as the British author reach the Best-Seller list of the German news magazine Spiegel. And "All what is disturbing on the life, love, death, what can't be domesticated or even not be understanding, don't appears by Pilcher". Further the South German paper wrote: "Distrust is always a part in her books. That is why her fundamental philosophy is so seductive: The world is not intact, but curable".
Neither praise nor reproach takes a visible echo from the success author. She is sitting on the sofa with crossed hands and mumble, she have never need someone that have to encouraged her to write. But she don't let anybody to hold her back to write. All of a sudden she wrinkles her forehead and looks with her striking bright eyes far away. She is thinking about the different qualities of books and the reading-effect they have. "How many copies of clever books from Stephen Hawkings are never been read, all over the world and lies on a coffee table?" ask she after a longer pause and then say. "Hundred of thousand".
She smiles, content to have had that good idea and wish away a drop of water from the tabletop. RP assert that now she makes a break at writing. That can be true or not. It would not be the first time that she, without any announce, put a mammoth-manuscript on the table.
As her family and friends, fifty years ago, didn't recognize her literary essay, she began to write secretly. She wrote when Graham was at work, the four children were in school, the curtains smoothly fluttered in the wind, the cooking already on the cooker -Pilcher is an enthusiastic and an excellent cook. Or when Graham was hunting grouses. "It was easy. I sat me down at the writing-machine and I continued there where I had break off the day before" she says. And she wrote that way the next thirty years totally self-sufficient, without any exchange with other writers.
"Acquaintances thought that I had stopped with this stupid writing" she says, gloating. With that she had her peace, far away from the temptations and aberration of the modern women way of life. "I never had something to do with glossy magazine, running away wives or such things" she says, describing her biggest imagination of the contemporary frivolity. Two times she went in a city. 1942 she came to Ceylon, as she was in the Women's Royal Naval, where she done her military service. Later she lived two month in London. Both was awful.
The author printed hundreds of short stories, thirty novels and a few heavy weighty books. "So what?" says RP "I had never difficulties to write, unimaginativeness or self-doubt". At her view that are luxury problems, they can be controlled with a little bit of self-discipline. She doesn't like any sort of luxury. With the first money she earned, she bought a tractor. Of the the question, for what she like spending money today, RP answers: "For fuel oil, because I like good heated rooms".
She is only interesting at the edge of contemporary books. "The Bonfire of the Vanities" the best-seller from the just a bit younger, American colleague, Tom Wolfe, is only one modern novel she read to the end. "Awful", is her opinion. "That's the kind of story who people get lousy and more lousy". As well the most young authors are a thorn in her flesh. "The more the condition are rotten, the bigger is the chance, to come through as a serious artist" she says and wave disparagingly with the hand: "But, please: There are talented people, they prefer live in a broom cupboard instead to get ready for a neat home" The antipathy is mutual. Whenever young authors see her at receptions, they gives her the impression to be: "an old stupid bag" says RP.
Few years ago she called the important literature club PEN "a union of chatterer they don't have any idea of writing". The British literary scene shriek out. Before that RP was treated as a harmless old woman. This image correction was not important for her. Nevertheless, she promise in future to be more gentle in the way to deal with her unloved colleagues. "Well, to act more politely". Not because of better insight, but because she didn't need a artificial turmoil that we talked about her. She is right. Whenever a new Pilcher is published, entire pages of criticisms are assured in the international magazines to the Queen of pain in the heart (Annabelle). Most of they are outraged comments they try to find out, why she have so much success with her modest literary family stories.
Effective as a tranquillizer
Escape of the reality of double earning generation, could be a possible reason, was said: people they eat sushi and pizzas, they let a Puerto Rican cleaning lady keep tidy the penthouse, they can't make the difference between a skylark and a bluetit. And however they are suddenly take by a life, where chimneys smokes, people are hearty, lamb roast turn over the fire, where hay is cut with a sickle.
A other group of readers was found by people living in social houses. Even they will go within a better world by reading and focus more of lifestyle than of the living in countryside, their sons aren't gang goers but men they give women gold coloured things.
"Rejection of mediocrity" says the FAZ and give the reader community a dressing-down: "at least you have to know what you are consuming there: sedative, tranquillizer".
As RP published the first big family saga "The Shell Seekers" in the USA, the author was 64 year-old. The risk that the unhip reading matter will move soon to the bottom of the book shelves in the bookshop was enormous. The budget didn't allow a big promotion. Because of that, at least was spread a huge fan community because her books were distributed from her American publisher in hundreds of little shops they weren't necessary bookshops. These shop were mostly took by older ladies they had few years before a household and grew up children and now in their old age had realized her dream to have her own shop.
They found the novel so good that they recommended them to their female consumers and this women gave the book as gift to her friends. "Within three weeks the novel, The Shell Seekers, was on the best-sellers list in the New York Times and began to be successful all over the world" says RP. After her first publication, she receives about five thousand letters from the US readers. This country is until today her best sales market. "The American ladies are the queens, when it matters to idealize the family and their members life" says RP and sound almost like her critics. "They send these beautiful glittering Christmas cards and tell how dad had a wonderful year in the office, that mummy play tennis in women club and that junior is passing the test to scuba diving".


Message between the lines?
In the letters they came from the USA to Scotland, was writing totally other things, tells the receiver of these letters, visibly amused: Fathers got ill. My son is homosexual. My mother is going away. The British woman says "My books are real taboo breakers". Of course not by every woman, that let her husband do the house keeping after end of work. But an old neglect literary generation, on the base of their description, see and accept that dream of perfect family life is a soap bubble. "Today these people dare to talk from their negative feelings and their difficulties in the day life, without having fear to be a looser".
Here RP says something that even the astute analyst of her books didn't see. In her family novels was a message between the lines, that can only found by readers they can feel like her heroine. The message is: "Grown-up sons and daughters can be real pain in the neck, we don't stop to love the own children. But in truth, we don't like them at all when they are adults" And then she laughs without stopping.
Marrisa goes for the second time through the baroque room. The assistant press to ending. Later RP will sign the golden book of Rheda-Wiedenbrück and smiling to the mayor when he says: "Your wonderful books help us to support difficulties in our life".