---

Tourism boost expected on back of German TV drama
29/01/2006 - 10:16:42
back to top

Hundreds of tourists are expected to flock to Cork and Kerry this summer after 7.7 million people in Germany watched a television drama shot in the southern counties.

Judith von Rauchhaupt, from Tourism Ireland's German office, said industry chiefs were expecting the numbers of those visiting the locations shown in `An Ocean Apart' by Robin Pilcher to soar.

"Around 26,000 people logged onto our home page on the internet the next day after the programme was broadcast," she said. "That means people went to their PC and actually looked for Ireland."

More than 7.7 million people in Germany watched the drama, An Ocean Apart, when it aired on the ZDF German state television stations on Sunday, January 8 last.

The television drama, An Ocean Apart, was shot in Cork and Kerry in several locations including Bantry House, Dunboy Castle, Kenmare and Cork City between August 25 and September 23 last year.

The movie was based on a novel by Robin Pilcher, son of the novelist Rosamunde, and was a follow-on film to one of Germany's most successful and popular series, the Rosamunde Pilcher films. The Rosamunde Pilcher films generally attracted between six to eight million viewers when screened.

"They are planning two more dramas. Most likely they will be filmed in Ireland this year," she said, adding the choice of Ireland as a location was a coup as previously the Pilcher stories always took place in Cornwall or Scotland.

Ms von Rauchhaupt said the previous Rosamund Pilcher movies were credited with bringing thousands of German tourists to Britain.

"For a lot of Germans these films were actually the reason to visit Great Britain and we are hopeful that `An Ocean Apart' will have a similarly positive effect on tourism business from Germany to the Cork-Kerry region and beyond," she said.

"We see the benefit with regard to the dramas they focus on the landscape it is not just telly drama."

Tourism Ireland said one of the biggest tour operators in Germany, Der Tour, organise trips on the Pilcher programmes.

Ms von Rauchhaupt said the Der Tour catalogue included a Robin Pilcher tour in Ireland highlighting all the locations shown in the programme including Kenmare and Bantry House, which she hoped would encourage hundreds of people to travel.

She said both Tourism Ireland and the Irish Film Board aided the German producers in choosing sites to film in and in basing the production crew in Kenmare, Co Kerry.

Around 35 film crew and 15 actors were based in the town throughout the shoot.

Ms von Rauchhaupt said the budget of ?1.3m ensured the production was a major boost to the economy during the five-week shoot.

She said the next two dramas to be filmed may be based in other areas around Ireland, such as Connemara.

back to top

---

Prime time German TV drama to commence filming in Ireland
15 August 2005
back to top

Ireland has been chosen as the location for a major new German feature length TV drama, 'An Ocean Apart', to be directed by Robin Pilcher.

With the assistance of the Bord Scannán na hÉireann/the Irish Film Board (BSÉ/IFB) and Tourism Ireland, the German producers scouted Ireland in June and July and opted to base the production in Kenmare, Co Kerry, with filming taking place on location in both Cork and Kerry.

Hotel and Self-Catering accommodation has been organised in Kenmare for 30 film crew and 15 actors. This represents approximately 1296 bed night's worth of business to local accommodation providers and some of the crew is already on site. The project has a budget of €1.3m euro and the majority of this will be spent in the local economy during the five-week shoot. Actual filming is scheduled between August 22 and September 23 and locations include Bantry House, Drumboy Castle, and a private period house at the Kenmare River as well Kenmare and Kinsale towns.

There will also be a variety of scenic shots from all around counties Cork and Kerry and there will be numerous references to Ireland throughout the film.

Welcoming the news, Irish Arts, Sport and Tourism Minister John O'Donoghue said that the decision by the German production company to film in Cork and Kerry was excellent news for tourism to the region. "The publicity value of a production of this nature is incalculable. The film is essentially a ninety minute advertisement for some of the most stunning locations that Ireland has to offer and will be seen in Germany by millions of potential visitors. This is a good example of the Bord Scannán na hÉireann/the Irish Film Board and Tourism Ireland working together to get results."

The movie is based on a novel by Robin Pilcher, son of the novelist Rosamunde and is a follow-on film to one of Germany's most successful and popular series, the "Rosamunde Pilcher" films, which regularly attract between 6-8 million viewers at initial screening time and again when repeated for up to 3-4 years later. The producers are confident of replicating the success of the initial series. The choice of Ireland as a location is something of a coup as until now the Pilcher stories always took place in Cornwall or Scotland, according to Naoise Barry, BSÉ/IFB Film Commissioner and Judith von Rauchhaupt of Tourism Ireland's German office, both of whom played a key role in persuading the production company to film here.

Barry said: "If this film is successful, we hope at least three more in the series will shoot in Ireland. This is good news for the Irish film industry and will undoubtedly impact positively on Irish tourism." (GB)
back to top



---


Production Begins on New Pilcher Mini-Series

October 5, 2005

back to top

MUNICH, October 5: Herbert Kloiber's Clasart Filmproduktion and Rikolt Gagern's Gate Film have started production on the two-part TV mini-series The Shell Seekers in association with ZDF, based on Rosamunde Pilcher's bestselling novel of the same name.

Shooting has begun in locations in Cornwall, near Windsor and on the Spanish island of Majorca. Brian Finch wrote the screenplay, Piers Haggard will direct. The cast includes Vanessa Redgrave, Victoria Smurfit, Sebastian Koch, Alastair Mackenzie and Maximilian Schell, among others. It focuses on 64-year old Penelope (Vanessa Redgrave), who recovers from a mild heart attack on the island of Ibiza. The incident leads her to reminisce about her past, her marriage and the man she truly loved and ultimately lost to the war. Tele München holds the worldwide distribution rights to the mini-series and will be showcasing the property at MIPCOM.

This is the sixth collaboration between Clasart Filmproduktion and ZDF for the Rosamunde Pilcher franchise, which also includes September, Coming Home, Nancherrow, Winter Solstice and Summer Solstice. back to top



---


Popular novel is brought to stage
January 12, 2006


Dan Owen North Wales Weekly News
back to top
WITH the stage version of a book described as a modern day classic heading to Llandudno, DAN OWEN spoke to half of the husband and wife partnership who adapted it.

A HEART-RENDING story tracing the lives of a family from the Second World War to the modern day, The Shell Seekers has sold more than six million copies worldwide.

Now a chance encounter with the book has led to Terence Brady and his wife, Charlotte Bingham to produce a stage version of the novel. Terence explained: "My wife and I were on holiday in the Scilly Isles and we had left all our reading material at home. Charlotte got a copy of The Shell Seekers and loved it, and said about adapting it but I wasn't sure. When we got home she starting writing the stage version, so I got into it too - she lured me into her trap!"

He explained how difficult it can be adapting a novel for the stage: "This is a huge book, with a lot of wonderful characters so it is always an alarmingly difficult task trying condense things but also keep the feel of the book, but hopefully we have done that. We are friends with the author Rosamunde Pilcher and she was happy with it."

The story focuses on a woman, to be played by Susannah York, who recovers from a heart attack only to find her family arguing over inheritance, she then sets about finding peace and order in her life before passing anything on to them.

Brady and Bingham are famed for work on stage and screen with hits such as Upstairs Downstairs, Forever Green, and Nanny amongst their work.

Terence added: "We started off in theatre then moved on to television and we have been looking for the chance to come back and write for the stage. It is nice that we have been able to write for an older cast, which is difficult with most contemporary works."

"Despite that fact the audiences are of all ages and it goes down well with everyone. Things are going well with the cast and rehearsals are good. We are very much looking forward to coming up to Llandudno with the show."

back to top



---


Heartache and passion
Dec 21 2005

back to top
AN international bestseller, The Shell Seekers, by Rosamunde Pilcher, has been adapted for stage by husband and wife team Terence Brady and Charlotte Bingham.

It now comes to the North Wales Theatre, Llandudno, from Tuesday, January 31, to Saturday, February 4, as part of a national tour.

An evocative classic, this heart-rending story of a modern English family is set in London and Cornwall between the Second World War and the present.

It is the story of Penelope Keeling, her family and the secrets, passions and heartbreak that have held them together for three generations.

It is also a story of The Shell Seekers, a painting and ancestral legacy which threatens to shatter the family's very existence.

Susannah York leads a highly accomplished company of actors.

She is one of the country's most prolific and popular actresses; her extensive credits include A Man for All Seasons, The Killing of Sister George, Superman and They Shoot Horses, Don't They? for which she received an Oscar nomination.

She most recently won a Best Actress Award at the Cannes Film Festival for Images.

Terence Brady and Charlotte Bingham have been writing together for over 30 years, creating TV series such as Upstairs Downstairs,Forever Green and Nanny.

The Shell Seekers is produced by Kenneth Wax Ltd and Nick Brooke Ltd in association with the Yvonne Arnaud Theatre, Guildford.
back to top



---

"Queen of Trash"
Sept 22, 2004

"Translated" by Google, and fine-tuned by Sandy

80 years ago: Rosamunde Pilcher was born

back to top
"September is the month, in which the life is most intensive in the Scottish high country. Now, before the grey winter begins, colorful shooting parties and balls are organized ", as it's described in Rosamunde Pilchers novel, "September". "I wanted to describe completely exactly the society in which I live", said the best-selling authoress, who was born on 22 September 1924 in Lelant in the English county Cornwall. After graduation she tells us, in 1942, she worked as a secretary to the war service to the Marine. Then she worked it at the State Department. After the war, she returned to Cornwall and became acquainted with the textile entrepreneur Graham Pilcher, whom she married 1946. They live in the Scottish town of Dundee.

Apart from her activity as housewife and Mother of four children, she writes short stories for women magazines - in the kitchen: "at the beginning of my marriage, writing was a kind of escape into another world. I could day-dream, write the future." Her writing saved her marriage. Her breakthrough moment came at the age of 63 years, when in 1987 her family saga "the Shell Seekers", appeared. Her novels have titles like "Wild Mountain Thyme", "interrelation of the love" and "End of Summer". As the first of 40 Pilcher programs filmed by the Second Channel of German Television 1993 the book "The Day of the Storm" included the original English scenes. In Germany there are up to seven million Pilcher film viewers! The world-wide book and film success trigged a tourist boom in the southwest of England. But in 2002, Pilcher received the price of the British tourism authority.

"My success secret is good luck", says Pilcher, "with 'Shell Seekers ' I obviously chose the correct time." She writes no more long sagas, says the 45 (euro) Millionaire. "Calling it trash, does not affect me. I believe nevertheless that I have a good style." That finds also her niece, princess Marissa to Bentheim Tecklenburg, who lives on lock Rheda in east Westphalia. Even if the German press calls it "related by marriage", Aunt "Queen of Trash", writes "very authentically". Rosamunde Pilcher calls it "light reading for intelligent ladies".

http://www.wdr.de/themen/kultur/stichtag/2004/09/22.jhtml back to top

---

Pilcher's winning formula
2/25/04
Riazat Butt
SHELL SEEKER: Rosamunde Pilcher

back to top
ACCORDING to her fans, you know when you've read too much Rosamunde Pilcher when "you long to wear cotton dresses every day," "boarding school sounds fun," and "you'd give anything for thick, thirsty, expensive writing paper" that you use to scrawl hasty messages - with a fountain pen, of course.

The comments, posted on websites, are endearing and affectionate tributes to a prolific novelist.

Rosamunde Pilcher writes about a genteel world that most of us wouldn't recognise, but her novels are immensely popular and she is no stranger to best-seller lists.

Her career started in 1949, when she was an author of Mills and Boon romances.

Writing under the name Jane Fraser, she published 10 novels. The first novel under her own name was published in 1955 and, in 1965, she began to use her own name full time.

It was The Shell Seekers, a story about family secrets, passion and heartbreak, that sent her profile into orbit.

The novel has sold more than five million copies worldwide and has now been adapted for the stage by husband and wife team Terence Brady and Charlotte Bingham.

Rosamunde is delighted with the result.

She says: "I knew Charlotte and Terence because Charlotte's aunt had been my great friend during the war. Charlotte thought the book would make a very good stage play. That was some time ago.

"I wasn't involved in the production, although I did read the script. It's the first time that my work has been performed on stage.

Successful writer

"To be a successful writer you have to touch people, you have to make people want to turn the page.

"At the moment, I'm reading Joanna Trollope's latest novel, Brother And Sister. I particularly liked The Rector's Wife. It was the most moving book, intensely sympathetic.

"When I read a book and I don't like it, I bin it. I won't give it house space."

I'm too scared to tell Rosamunde that I have never come across her work, but it's clear that the writer is happier talking about books than she is talking about herself. "I find the new breed of satirical female writers rather brittle. You need depth to write. Have you read The Suit Of Love, by Nancy Mitford?" she asks.

"You must read it. You giggle your way through it and then you turn the last page and you're in floods of tears. Go and buy it in paperback."

I tell her that the last brilliant book I read was Rebecca, by Daphne du Maurier. "I think Rebecca was the first grown-up novel I ever read," she tells me. "I was about 14. I wish I'd written Rebecca or The Suit Of Love."

But she wrote The Shell Seekers - and it changed her life.

"It's rather daunting being a successful writer. The Shell Seekers meant that we were able to help our grandchildren go to college and help the children buy houses. It hasn't changed our lives stupidly. I don't have a mink coat or own a Rolls-Royce.

But we have reached the time of life where health is the most important thing. We've not been on a Saga holiday."

Even though Rosamunde is 80 in September, she is remarkably spry and witty. How will she celebrate her birthday?

"Well, I'd rather let it slip away but my children have said that I must have a party. I have four children and 14 grandchildren, so Christmas is expensive," she jokes.

"Money and sex are great life enhancers, but as soon as you start talking about them, they become very dull. Keep them in control and they can be lovely things."

Pilcher's winning formula 02/25/04 back to top

---


Rosamunde Pilcher's Perthshire & Kinross
02/21/03

back to top
Q: How long have you lived and worked in Perthshire?

A: I have lived in Perthshire for nearly 57 years, and been working writing and selling fiction for just about as long a time.

Q: Describe the region to someone who has never visited it.

A: Between Dundee and Perth lie the rich arable farmlands of this district. To the south the River Tay flows east towards the sea. Wild geese feed on the marshy foreshores and, at morning and evening, skeins of these lovely birds fly overhead, travelling from the remote lochs hidden in the Sidlaw Hills.

Q: What are the area's main attractions?

A: The ease with which one can leave the city behind, and be in deep countryside in no time; and the many championship golf courses that are close at hand.

Q: What are the area's strongest points, and its weakest points?

A: The area's strongest point is the location. Near the sea, so that there are always fresh winds, and not far from leisure locations – hills to walk, rivers to fish, golf courses and skiing in the winter months. A huge minus is the lack of good restaurants, hotels and pubs. If we have friends staying we never eat out but always at home.

Q: Describe an ideal day out spent in Perthshire.

A: I would go up to Glenmarkie, where, in l900, my husband's grandfather built a shooting lodge. The house has been sold on, two or three times, but it lies at the head of a seven-mile glen, surrounded by quiet hills which used to ring to the 'go-back, go-back' of grouse. In the neighbouring glen, the grandfather dammed a burn and created a peaceful loch. Sheep graze by its reedy banks and many a picnic was enjoyed, with swimming and trips in the rowing boat and rounders or cricket matches on the flat, grazed grass meadows.

Q: Does the region influence your writing in any way?

A: I have used many locations in my novels, not necessarily being totally accurate, but mixing favourite features. A house there, a hill here … a river, a garden.

Q: Who are your Scottish heroes, both historical and modern?

A: I am not a great history person, so my Scottish heroes tend to be the inventors: Baird and Fleming and Dunlop. I also admire deeply the work of Scottish artists, from Wilkie to the Glasgow boys and the Scottish School. And if I had a million to spare, what joy to be the possessor of one of Peploe's still lifes, and to be able to look at it every single day.

Q: Is there anything you would change about the area?

A: The Scottish Parliament is what I would most like to change. A narrow-minded, urban parliament is not what a rural country like Scotland needs. What do the representatives from Motherwell, Paisley and Renfrew know about the problems of the Sutherland tanner, the Fraserburgh fisherman? We are not a big enough country to range ourselves in enmity. 'Them versus Us' is outdated. Something has to change. Perhaps an attitude?

Rosamunde Pilcher, Perthshire-based author of novels such as Coming Home and Winter Solstice, has been writing all her life, with best-selling success. The above novels are published by Hodder and Stoughton.

back to top

---


"The New Magazine"
August, 2000

translated from German for us by
Yahoo Egroups member, Dagmar of Austria.
Thanks so much Dagmar!

back to top
Rosamunde Pilcher:
The surprising confession of the best selling author

Statistically every second German home must have a book by RP in it´s bookshelf, 11 million of her books were sold alone in this country. But who is the woman, who writes such romantic love stories? The best seller author, who could afford every luxury and live an eccentric life like Barbara Cartland once did, says about herself: " I am a housewife who writes romances!" And she even looks a little bit like a normal housewife. No sign of exclusive fashion, no palace, no expensive designer furniture. She more likes to welcome her guests in curduroy trousers and cardigan than in a fancy dress. Her house in Scotland´s Longforgan is a normal bungalow, furnished typical English: flowered wall paper, fireplace and chairs embroidered with roses.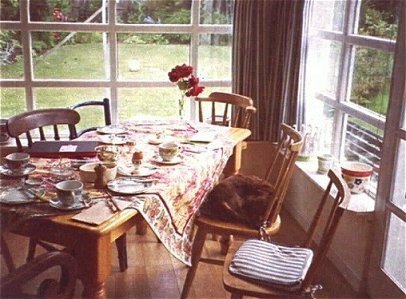 1. The author starts her day with tea and marmalade
toast at the lovingly laid breakfast table



"In former times we had a cottage in Cornwall" the author says. "It has become too big for us, we don´t need so much space anymore". When she says "we" she means herself and her husband Graham (84). They have been married for 54 years now. About her marriage RP says: "This is the hardest job of my life!" Nevertheless RP has a recipe for her long and happy relationship: "We allow each other to be independent!" Especially surprising is her confession: "Actually we don´t have any common interests. I like to write and knit. Graham loves golf and goes hunting. We don´t even go for a walk together. But there is something good about it: we have always something to talk about." And when he sometimes takes things too far, she lets her anger out working in the garden.



2. A place for leisure hours: RP likes
to sit in this flowered chair.



But her "Scottish Macho", how she calls Graham with a little twinkle in her eyes is also her greatest fan and the former jute trader doesn´t envy her the success at all. Meticulously he collects every article about his wife and reads critics attentively. And he has the cranky habit to leave his hearing aid somewhere and then he only hears what he is interested in. Graham Pilcher never accompanies his wife on her many journeys in order to read from or sign her books. RP on the other hand loves to travel and have contact to her mainly female readers.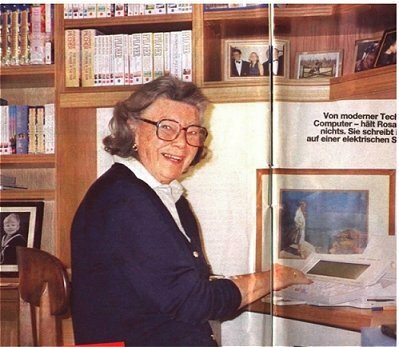 3. RP doesn´t think much of modern technics
- a computer - she writes all her stories
on an electric typewriter.



"Always when I am away Graham takes the advantage of playing golf all the time." the author laughs. "But mostly one of our children is here to keep him company." Her four children play a big role in the life of Britain´s famous writer: Fiona (52), Robin (50), Pippa (47) and Mark (42) are regular guests in Longforgan and bring her 14 grandchildren with them. And then there is chaos in the bungalow!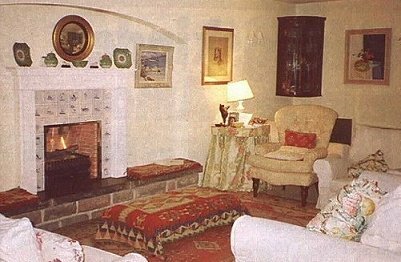 4. In the evening the Pilcher's like to have a whisky at the fireplace.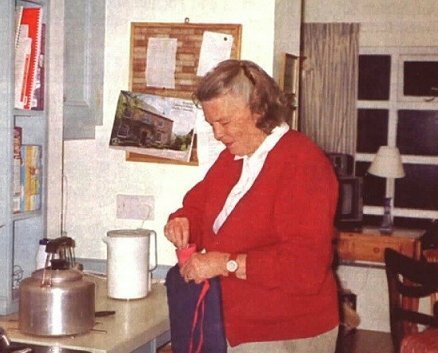 5. "Hot-water bottles are the best
invention" RP says. It belongs to her
night rituals like combing and brushing teeth.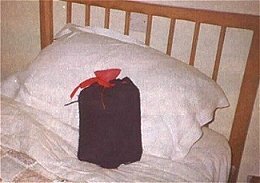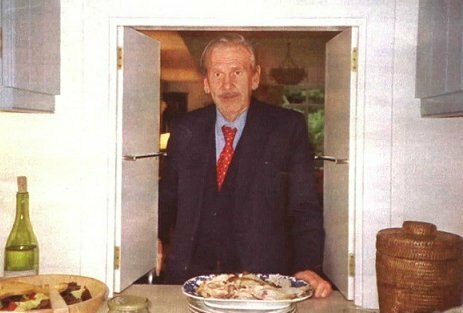 6. Graham Pilcher is a real gentleman. He changes before
dinner and appears always in a suit.
At the moment he is recovering from a hip
operation. But soon he wants to play golf again.



RP even transferred the proceeds of her books "September" and "Coming Home" to her children to give them security for their lives. And for her grandchildren she paid in education funds. It is a reassurance for her to know that her children and grandchildren are financially safe because she had to earn the living for her family after the II World War among other things by struggling to sell her short stories. By that way her career began over 50 years ago. Her newest romance "Winter Solstice" is already on place 6 of the best seller list. It is about late happiness and love in older age. Her 18th book is said to be her last. Let´s hope that this is only a "sales gimmick"....

back to top

---


An Interview with Rosamunde Pilcher

From The Book Reporter.com
August 11, 2000

back to top
Rosamunde Pilcher is a beloved author whose books have won much international acclaim, and her most recent, WINTER SOLSTICE, is one of her best yet. Bookreporter.com's Writer Ann Bruns --- who had never experienced Pilcher before --- fell in love with her novel and is now a devoted fan. Find out what inspired her retirement age romance in WINTER SOLSTICE, how she feels about the deterioration of Scottish estates, whether she will write another novel in her lifetime, and much more in this interview.

TBR: One of the most appealing aspects of your new book, WINTER SOLSTICE, lies in the characterizations, especially Elfrida Phipps and Oscar Blundell, both of whom are retirement age. Did you start out intending to write a story that would incorporate some of the more poignant difficulties of aging, or did that evolve some time later?

RP: No, I started out writing about two mature people, both of whom had come through tragic times, finding companionship and a new love with each other.

TBR: WINTER SOLSTICE encompasses so many emotional facets. The most prevalent is the loneliness that many of your characters experience, in particular those who have lost a spouse. Elfrida laments, "Perhaps that was the worst of all. Not having someone to remember things with." Is the absence of that special companionship that couples share the most painful type of loneliness? Do human beings have a need to be partnered to be truly happy?

RP: I don't think people need a partner to be truly happy. A self resourceful person can lead a full and happy life without a companion...simply friends. But for Elfrida, it was different --- and she missed her lover and wanted someone to remember good days with.

TBR: Was it their desperate need for companionship that ultimately drew Elfrida and Oscar together or would they have fallen in love under different circumstances anyway?

RP: I think Elfrida and Oscar were twin souls. Their relationship from the very beginning was one of recognized compatibility, despite the fact that he was married to Gloria.

TBR: Even though Gloria Blundell was a heavy drinker and had been drinking the night of the accident, Oscar never seems to hold her responsible for the death of their child. Wouldn't most people in that situation tend to feel just the opposite?

RP: Oscar never blamed Gloria for the accident. Simply himself, for not having the foresight to drive both wife and daughter to the firework party.

TBR: Elfrida was such a dichotomy of moralistic values. On the one hand, she'd been living with a man while he was estranged from his wife, and had encouraged her cousin Jeffrey to leave his unhappy marriage with Dodie and marry Serena, yet she abhorred the idea of a woman stealing another woman's husband. Isn't this a rather fine line of distinction?

RP: Elfrida's moral code was fairly flexible. ALL she disapproved of was the single woman, divorced or widowed, taken under the kindly wing of a good girlfriend, and then scarpering with the kindly girlfriend's husband. This was the situation in which she found herself, and she was to have no part in it.

TBR: Another central feature of WINTER SOLSTICE is the focus on family relationships --- husband/wife, mother/daugher, father/daughter, sister to sister. Dodie's daughters, Nicole and Carrie, have both suffered from a lack of nurturing, and Nicole is carrying on the tradition by treating her own daughter as an inconvenience. The implication is that Dodie's personality is the root of this dysfunctional family; Jeffrey seems to be viewed as blameless. Isn't his emotional absence in his daughters' and granddaughter's lives a contributing factor?

RP: Dodie's personality IS the root of her dysfunctional family. She is bone selfish and always has been. Jeffrey, not blameless, has nevertheless done his best, cared for his wife and children, and seen the children on their way. His wife, divorced, is well off and independent. As for him, I think he deserves a little happiness with Serena, at the end of it all.

TBR: Village life in rural England and Scotland is portrayed as one of community involvement, sharing responsibilities and caring for those in need. Even the elderly employees of the now defunct estate were watched over by local residents. In fact, one resident comments that if Oscar returned to his hometown after a 50 year absence he'd be welcome with open arms. We seldom see that kind of kindred, neighborly spirit today. Is our more mobile society impacting our sense of belonging to a community?

RP: I think in Scotland, where life jogs along at a slower pace, people do stay and live in small communities and take care of each other. All the inhabitants of Creagan would have remembered old Mrs. McLellan, the "doyenne" of the Big House, with much affection and respect. Her grandson would automatically have been welcomed back into the fold for her sake.

TBR: Elfrida and Oscar were concerned that their "living arrangements" would appear scandalous in the eyes of the local residents as well as her family, yet no one seemed the least bit offended by it, not even the minister and his wife. Was it because of their age or a reflection of more relaxed social morès?

RP: Life and moral values move on and change. Elfrida and Oscar's design for living would have been of no concern to any person provided they fit in, were friendly, and became part of the community, which they did. Oscar was also the grandson of old Mrs. McLellan, which would automatically give him carte blanche. The Minister, Peter Kennedy, is a wise man, and would be nothing but benevolent. He recognizes a truly good man when he sees one.

TBR: Despite her lack of a stable home life, Lucy appeared to be quite well-adjusted and resilient. She exhibited many personality traits of a typical teenager --- except perhaps her willingness to tackle household chores. Does this suggest that those born with a survivalist nature will endure despite the quality of parenting? Or does it require some positive influence from another source to ensure their success?

RP: Lucy is perhaps a little old-fashioned and biddable. She is not a modern, self assertive child. Such children still exist. She is simply looking for a bit of colour, companionship, and love in her rather boring life. A normality which she knows she is missing out on.

TBR: At one point, you alluded to the origins of the celebration of the Winter Solstice? Can you elaborate any on the history behind this?

RP: Winter Solstice, really nothing more to say.

TBR: Your descriptions of the deterioration of many local estates painted such a tragic picture. Are there actually a great many old estates crumbling and neglected in areas of Scotland? If so, couldn't they be put to some useful purpose while preserving them as much as possible?

RP: Yes, large estates do go downhill. Many of them were built and the land farmed and used for sport during the rich Victorian years, when labour was cheap, workmanship excellent, and a whole different sense of values existed. They could be put to some useful purpose, except that they are isolated and often situated in countryside which cannot be used for anything agricultural. That was part of their charm. It is hard to find a useful life for them, and the families who inherit them either take in paying guests, let out the shooting and fishing, or turn them into historical tours. Dubrobin, the home of the Duke of Sutherland, is typical. A historical tour, while the Lord Strathnaver lives in a converted dairy.

TBR: When you write a novel like WINTER SOLSTICE, do you begin with an outline of a story in mind, or do you create the characters and work outward as they develop?

RP: I started WINTER SOLSTICE with five characters. The story is what becomes of them.

TBR: With such a long career in writing, do you have any sage advice for budding authors out there?

RP: Budding authors, be self-disciplined. It is a lonely job. And LISTEN to experts.

TBR: What authors influenced you when you began your writing career? Who do you enjoy reading for pleasure today?

RP: I read my first Monica Dickens, called MARIANA, when I was about twelve. From her I learned a great deal about writing novels.

TBR: Will it be another 5 years before we see another Rosamunde Pilcher novel, or do you already have something cooking?

RP: I have no new book cooking. At my mature age, I shall probably not write another novel, but we shall see. back to top

---


Pilcher's Day in the Sun
An interview with Rosamund Pilcher

back to top
Rosamunde Pilcher has finally given her adoring, fiercely loyal--and growing--army of fans what they have been begging her for since her last, bestselling novel, Coming Home, was published five years ago. Having announced she would be writing no more, Mrs Pilcher has relented. In return, and almost before the ink has dried, her fans have helped to place Winter Solstice firmly, and defiantly, at the top of the bestseller lists on both sides of the Atlantic. Rosamunde Pilcher talks to Carey Green for Amazon.co.uk.


Amazon.co.uk: Was it a surprise when Winter Solstice, your fourth major saga, shot straight to the top of The Times and The New York Times bestseller fiction lists?

Rosamund Pilcher: Well, perhaps not exactly a surprise, more of a relief I'd say! I've never had that much confidence in anything I've ever written. I still think, maybe this time it's going to fall flat on its face. The Shell Seekers was my first bestseller and I was as surprised as anyone by its enormous success.

Amazon.co.uk: How autobiographical was The Shell Seekers?

Pilcher: It wasn't really autobiographical but it was all about things I had known and done and it encompassed the bohemian life I have always loved. I was brought up near St Ives and all my friends' parents were creative people in some way or other--potters, painters, writers, sculptors--and we absorbed this extraordinary atmosphere of creativity. It was the first time I had gone back in time and not written a contemporary novel, and it was lovely to go back and write about the way things were as I remembered.

Amazon.co.uk: Do you think that writing about events and places and people you have known is the key to your success?

Pilcher: Yes, as it is for any writer. That is why I could never write a historical novel or a science fiction or a children's book--I just haven't got that kind of imagination. I could never tell my children stories either--I always had to read them out of a book. I love children dearly and relate to them well--I love their minds and the things they say--but I could never write a children's book! I just stick to what I feel I can do properly.

Amazon.co.uk: Are there things about success that are difficult to live with? Like interviews?

Pilcher: No, no, basically people are very nice. At home in Scotland people are generally reserved so that one is usually left alone. In places like Vienna and Berlin, though, people come up to me with autograph books all the time. It can be a little overwhelming. And I did a three-week tour in America for September which was absolutely amazing. I went to Atlanta and never saw so many blue-rinsed ladies screaming and waving at me. They gave me recipes and asked my advice on gardening as if I were the girl in the book. She was incredibly domesticated and competent which I am not at all! I mean, I'm OK, I get by, but I'm not brilliant at that sort of thing. I felt like an agony aunt. But it was all rather nice really. I did a two-week tour in Germany, also for September, and I remember getting on the plane to come home and I was absolutely drained. I don't actually get tired, but I remember wanting to curl up in a corner.

Amazon.co.uk: Both The Shell Seekers and Coming Home have been filmed. How does it feel to see your characters come to life on screen?

Pilcher: Sometimes it's great and sometimes it's rather difficult. Joanna Lumley in Coming Home was so perfect and so 1930s, so exactly right. But if you get someone who isn't right the whole thing can collapse. I don't really get involved in the adaptations--that's not my job. But they do send me the treatments and I get to read the scripts and they talk to me about who they're casting. I'm already talking to a company about filming Winter Solstice and have my eye on a particular actress I think would be perfect for Elfrida!

Amazon.co.uk: How long does it take you to write a book and do you have a writing routine?

Pilcher: I took two years with The Shell Seekers, a year to write September and three years for Coming Home because there was so much research. When I'm writing I try to get going about 10 am and then stop to make my husband lunch which, in a way, is a good thing because it can be easy to lose sight of what life is all about when you're writing. In the afternoon I go for a long walk by myself with the dogs. That is part of the writing process for me--I have long conversations with my characters--chat, chat chat! Then I come back and write again until around 7 pm. I try never to let a day pass without doing a little bit of work. It is a slow, continuous process.

Amazon.co.uk: Does writing come easy to you? Pilcher: Yes, once I start. Once I have my characters sorted out. I get them very strongly in my head so that by the time I start to write a book I know all about them and what they look like. Once I have worked out the plot on paper, it is a mechanical thing. I rewrite as I go; sometimes I will rewrite a page four times until it is absolutely right. No-one ever reads anything I write until a book is finished--except my American publisher, and I feed him chunks and talk to him on the telephone as I go. I don't even let my husband or children or best friends see it until it's published. Amazon.co.uk: You must put enormous trust and faith in your American publisher? Pilcher: Yes, I do, He's a fantastic editor. We've worked together for 20 years now and he's truthful and his criticisms are always very constructive. We understand each other. We have arguments. He's a sounding board--everyone needs one sounding board and a professional is much the best kind. Amazon.co.uk: You said you weren't going to write any more after Coming Home, what changed your mind? Pilcher: I was terribly exhausted after six years of solid writing, not including the publicity, and I had honoured all my contracts so I said I wasn't going to do any more. We also moved from our old family home into a smaller one and my husband and I travelled a lot. Then my American publisher, Tom, rang up and said, oh come on, let's do another one, a little thin book about Christmas. I said I don't really like writing about Christmas. So eventually I got these five people in my head and I thought I'd write about a Christmas that wasn't really a Christmas. And I managed to end it on Christmas Eve so I didn't have to write about Christmas at all, which is usually a miserable anti-climax anyway.

back to top

---

Sex and Money: so life-enhancing
Monday, July 24, 2000

back to top
Bacon is sizzling on the Aga, there's a scent of wax polish, men have manners - Rosamunde Pilcher is back. Elizabeth Grice meets her.

"ELFRIDA, with a basket in her hand and Horace firmly clipped to the end of his lead, closed the front door of her cottage behind her, walked down the narrow path, through the gate, and set off down the pavement towards the Post Office and General Store . . ."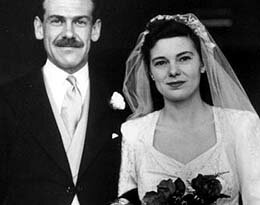 December 1946: Graham and Rosamunde on their wedding day
These unsensational words will quicken the pulse of Rosamunde Pilcher fans across the globe. They announce that the long winter of her abstention from romantic fiction is over. Five years ago, the author of The Shell Seekers and Coming Home said she had written her last book, honoured her contracts and intended to spend more time with her family and friends. She was 71 and had made a fortune. There was no reason to disbelieve her.
Suddenly, with the polite click of Elfrida Phipps's gate, we are back among the reliable sights and sounds of Pilcherdom: a world of strong women, well-mannered men, bracing landscapes, big dogs, loyal cleaning ladies and houses that smell of wax polish.
Pilcher's books are about coping with life's upheavals. Sex is strictly between the lines; shopping means getting in the groceries. Whatever the traumas of the previous night - and there are few crises that cannot be met by a large whisky - her characters can look forward to the restorative smell of bacon sizzling on the Aga for breakfast and an endless supply of scalding coffee.
"I am terribly uninterested in shopping," says Pilcher, smokily, "but I think sex and money are two of life's great enhancers. They make life magic. They make the sky blue and the sun shine and everything wonderful. But once you start writing about them, unless you do it quite beautifully, they become very b-o-r-i-n-g. I won't say 'offensive' because I'm not offended, but in so many books they drag sex in by the legs and you want to turn the page because it's so boring. To write very intimately is a great art - and it must be romantic, not just physical."
In this department, she yields to the superior powers of Elizabeth Jane Howard, who "can write a really steamy sexual scene and it feels true . . . I think she is an enormously experienced lady".
Pilcher's strength is knowing what she can do well and writing about what she knows. She doesn't, frankly, give a damn about literary snobs or being called the queen of kitsch. With sales of 60 million from all her titles, why should she? "I am a bit like Liberace: laughing all the way to the bank," she says, reaching for another Marlboro. "You can't please everybody. If you sat around waiting for the critics to praise you, you'd never do anything. You've written the book. You just have to let the brickbats come."
Pilcher comfortably occupies that undervalued middle ground between light fiction and serious literature. There are flashes of the Mills and Boon writer she once was - as in the parodist's dream: "He took her into his arms and she leant against him, her shoulders heaving, weeping into the front of his Barbour" - but she has a way of tapping into the emotional life of her readers and making them care about characters not unlike themselves.
Her definition of her female constituency is recklessly honest. "Mostly, I would say, the older lady, or the family lady. The mother doesn't mind handing my books over to her daughter because they're not full of sex, drugs and shopping. Granny can hand them on to her granddaughter, her sister, her niece. Readers say things like: 'Your new book got me through a bad time when my husband was ill'. The Shell Seekers is still in print and selling like mad everywhere."
This was the book, based on her early memories of Cornwall and London, that toppled Tom Wolfe from number one in the New York Times bestseller list in 1990 and became the highest-selling paperback of the decade. It has sold 5.5 million copies worldwide and was made into a television film starring Angela Lansbury and Patricia Hodge. If for no other reason than that she sells, sells, sells, Pilcher has a huge claim on our attention.
Until Shell Seekers, she belonged to that industrious band of unknown women who tapped out saleable stories at the kitchen table while bringing up children, supporting the breadwinner and running the house. In the words of a friend who knew them way back, she was "the wife of Major Pilcher of the Black Watch, the beautiful woman of the home, writing her little books".
But Major Pilcher's wife was not happy at the way her little books were being treated. "They were being peddled as a very inferior imprint of the Collins publishing house," she says, acidly. "They looked trashy. They were sold in a trashy way. I said: 'Y'know, if you're not going to publish them with pride, don't publish them at all'." So she gathered up her titles and defected to St Martin's Press in America, selling all her English-speaking rights.
It was a smart move. "I don't know where Rosamunde Pilcher has been all my life," the New York Times reviewer crooned, "but now that I've found her, I'm not going to let her go." Americans were entranced by the boggy, heather-clad landscapes of her stories and her reassuring belief in the ability of humankind to cope with whatever life throws at it. She became big in Brazil and Scandinavia and a cult figure in Germany, where she is the bestselling post-war novelist.
It was her American editor, Tom Dunne, who persuaded her to try a longer, more autobiographical book. Entirely without hype, The Shell Seekers became a bestseller within three weeks. Pilcher is convinced that she owes a great debt to those "nice little ladies running dear little bookshops in the American suburbs" who spread the word that here was a safe, engrossing read.
"I don't think anything will have the impact Shell Seekers had. Everything I love was in that book: Bohemian people, painters, paintings, Cornwall, the way London used to be. I was terribly bereft when I finished it. I had walked round the fields talking to all my people for so long and suddenly it was all over. I had nobody to chat to any longer. They'd all gone."
As the cheques started to roll in, Pilcher was overwhelmed by an inexplicable feeling of doom. "I felt something ghastly was going to happen. It must have been a sudden awareness of responsibility. I knew I had to think ahead, plan for the future."
It isn't that they had previously lacked means. Graham Pilcher had been a director of the family jute business in Dundee. They lived in a big house surrounded by nice paintings and taken-for-granted antiques. There was a swimming pool, a tennis court, a paddock and several acres of grass. So paralyzed was she by the need to be sensible that her first, and for a long time her only, extravagance was to buy her husband a ride-on mower. It was six years before she partially renovated her kitchen and installed an Aga.
If anything, she began to scale down. With the four children off their hands, the Pilchers left the family home and moved to a ranch-style bungalow in the village of Longforgan, near Dundee. They even went for smaller dogs - long-haired dachshunds instead of labradors - a kinder solution than the one meted out to her antique furniture: she cuts the legs off stools and tables if the height isn't right.
There is a lingering frugality about Pilcher which probably stems from her family's genteel poverty and a reluctance to take anything for granted. She's sharp, savvy, kind - and nothing like as whimsical as readers who send her flowers and pictures of their homes would like to think.
"Nothing is ever said about money," she says. "I deliberately never talk about it. We never talk about anything beyond the two of us. If the papers say I'm rich, I just pass it off. It's nothing to do with them. It's nothing to do with anybody - not even our children, actually."
Graham Pilcher is 84 and many men of his generation would find it hard to be generous about a wife's sudden fame and fortune. But he is as genuinely delighted for her success, and the security it has given them in old age, as she is careful not to flaunt it.
"I would never dream of belittling all he did for us when we were young," she says. "He kept the family together, went off to work every day, earned a living, paid for the children's education. I wasn't earning enough to do anything like that. Now, if he wants to, he can go and buy himself a big new car, but he doesn't."
They're already well-travelled, Disneyland holds no appeal and they are far too busy to go on a cruise. As for clothes, you have only to glance at Mrs Pilcher's washing line to see where her priorities lie - three identical Marks & Spencer cardigans are pegged out in the sunshine.
When the shock of her success had sunk in, Pilcher bought a five-bedroom flat above the Victorian bank in Dornoch, Sutherland, where she could enjoy the sea air and her husband could play golf. But her defining gesture was to make over the profits and copyrights of her next two books to her children.
"Brilliant move," she says. "All I had to do was live for seven years. My chartered accountant suggested it. But the legal complications were tremendous. I had to have a special patents man from London. Because an unwritten book has no worth, it was like giving away a blank canvas or a blank piece of paper."
Pilcher quickly filled the blank piece of paper with two more successful books - September and Coming Home - and set her children up for life: the greatest satisfaction her money could buy.
"They had struggled for long enough. We've had two divorces and various babies being born at the wrong time - all the usual traumas, but you come through them. At least now they've all got good houses which they own." The eldest son, Robin (also a novelist), and his family live in a farmhouse set in 400 acres near Dundee, inherited from his paternal grandparents. Fiona has just bought a "grown-up" stone house in Somerset. Phillipa lives on Long Island, and has a beach house in Hawaii, and the youngest son, Mark, farms in Cornwall. "They are all sensible and have enough to see them through if they're careful."
Pilcher's new book, Winter Solstice, has what Dunne calls "emotional wallop", dealing as it does with the universals of widowerhood, overcoming grief, finding love. Her central character, Elfrida, is childless and "past the age when her heart leapt for joy" on seeing an attractive man. But that doesn't stop her from being surprised by life. "You're lovers?" inquires a young relative. "We are." You cannot accuse Rosamunde Pilcher of cheap thrills.
Central to the story is the violent death of a child. "I can't imagine anything more dreadful," she says.
The Pilchers had a fifth child, Amanda, who died after five days, but she is adamant that the death of a baby does not compare. "Some babies are not meant to survive and she wasn't. She was very sick. The paediatrician, a very godly man, said to Graham: 'I think we'll let this one go', and I've never ceased to remember him and to be grateful to him.
"I never saw the child, never held her, so I wouldn't be so presumptuous as to say I suffered as other mothers did. She was just a little burden I was allowed to put down very early on and walk away from."
Though she insists that her books don't have messages, Winter Solstice reads like an antidote to the counselling industry. In the depths of bereavement, it argues, there is nothing more to be wished for than the hand of a friend. "People are left alone to mouse along, putting one worn gym shoe in front of the other and getting through the days until, gradually, the sky looks blue again."
Pilcher says she believes strongly that "life is part of death and death part of life". With characteristic briskness, she says she doesn't want to think very much about eternity. "There are very few people I want to see again. I'm not a great believer in the afterlife. I can't see it as anything other than the most hideous cocktail party. All you'd see would be the people you didn't want to see, and all the ones you wanted to see you wouldn't be able to find."
But perhaps, when she gets there, someone will accost her with the words that put her on the map: "Rosamunde Pilcher, where have you been all my life?"

back to top

---

Writer extraordinaire
Novelist Rosamunde Pilcher shared literary inspiration and hints for aspiring writers during a recent visit to Fredericksburg.

By LUCIA ANDERSON
- The Free Lance-Star
October 22,1999

back to top
ROSAMUNDE PILCHER could easily be a character in one of her own novels. Serene, gracious and quietly humorous, the best-selling British author is all of a piece with the well-bred, intelligent people she writes about.
"I guess I write about them because they're the sort of people and the way of life I know the most about," Pilcher said in an interview at Mary Washington College last week.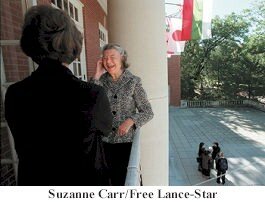 Pilcher, 75, was in Fredericksburg for the semiannual meeting of the Regents of Kenmore. She has been a regent since 1994.
Officials at the college took advantage of her presence in town to snag her for two lectures-one for students and one for the President's Book Club and Authors Series.
Pilcher has written novels and short stories for more than 50 years. She achieved international best-seller status with her 1987 novel "The Shell Seekers," followed by "September" in 1990 and "Coming Home" in 1995.
She mined a lifetime of practicing her craft for hints to give the budding writers among Mary Washington's undergraduates.
For one thing, Pilcher said, she must get to know her characters before she can figure out what they're going to do.
"You have to live with them, talk to them for a long time. Then you can put them in situations. ... The plot comes from the characters," she said.
She told the students they have to decide whether they're writing to get a check at the end of the process or just for themselves. If they're writing for money, they have to know what's going to sell.
"I'm not desecrating art," Pilcher said, "but you have to decide if you're going to fish or cut bait."
She has been financially successful for years, but widespread recognition took its own sweet time arriving on Pilcher's doorstep. She was 14 when she decided she wanted to be a writer, and she started with short stories. She later tried novels, and as she persevered, she said, her books became less trivial, less predictable. She was 60 when she wrote "The Shell Seekers," her first international blockbuster.
"That's quite a long time to wait," she said.
The daughter of a commander in the Royal Navy, Pilcher was born and raised in Cornwall, that romantic appendage to England's southwestern edge.
"I was a voracious reader; I lived in a house filled with books," she said.
Her mother's sister, who lived in Philadelphia, gave Pilcher's family a subscription to the Ladies Home Journal every year, and young Rosamunde devoured its short stories.
"I absorbed the techniques," she said.
Her father was away much of the time, and her only sibling was a much older sister. But Rosamunde enjoyed solitude.
"I was happy to be on my own," she said. " There was so much going on inside my head."
Porthkerris, the little Cornish town where so much of her writing is set, is actually a fictional name for St. Ives, where she grew up, she said.
"Place influences what you write," she told the Mary Washington students. "I think place is terribly important."
Pilcher has lived in Scotland since marrying a Scotsman 53 years ago, and that landscape plays almost as large a part in her writing as Cornwall.
"Coming Home," her most recently published novel, is close to being autobiographical, she said.
"It's not me, but all the same things happened to me."
Set before and during World War II, it re-creates a world now vanished.
"I wrote it for my grandchildren," she said. "I wanted them to know what it was like."
Pilcher has 13 grandchildren, five of whom live on Long Island.
"It was rather fun to write about something so real, a kind of self-analysis, I guess," she said.
She sold her first short story while serving in the Far East with the Women's Royal Naval Service during World War II. A London women's magazine bought it for 15 guineas. She was 18, and she thought that was a fortune.
"That was one of the best days of my life," she said.
She married Graham Pilcher in 1946 at the age of 22, and soon began to write again.
"I wanted to make some money," she said. She didn't like depending on her husband for pocket money.
She did her writing in the kitchen, while keeping house and raising two sons and two daughters.
"If I shut myself away, everyone would come and beat on the door. If I was in the kitchen, nobody bothered me. They took no notice at all."
She wrote on a manual typewriter for years but now uses a word processor.
She's dryly amusing about her high-tech skills.
"I can do double spacing, and I can do italic. I can't store, but I've learned to print out before switching off the machine."
The word processor doesn't give her the same satisfaction as the typewriter.
"I loved to bang away and pull sheets of paper out of the machine. I felt like I was accomplishing something."
She's working on another book, this one about Christmas and the way it brings people closer to each other.
She and her husband still live in Perthshire, Scotland, near Dundee, with two long-haired dachshunds named Daisy and Polly.
When she's not writing she gardens, takes care of her husband and tends the dogs.
"It keeps me so busy I wonder how I ever had time to write," she said.
"But when I'm writing, I wonder how I ever had time to do anything else." back to top

---
back to top
back to top
---
back to top