Neighbors

Wednesday, July 15, 1998
Franklin, New Hampshire
By Kathleen Robbins, Concord Monitor Staff

Making our history come alive
When Sharon Ann Burnston moved to Epsom from Pennsylvania three years ago, it didn't take her long to realize that this area of New Hampshire was missing something: a hands-on living history museum focusing on the 18th century.
So she started one.
"Once living history gets into your blood, you really miss it," said Burnston, who was curator of the Colonial Pennsylvania Plantation in Ridley Creek State Park, Penn., and has spent 19 years as a historical archaeologist.




Sharon Burnston spins wools into yarn on the lawn of the Daniel Webster Birthplace in Franklin. She's the director of the Living History Project, a program that recreates the activities of the 18th century for museum visitors.
Photo by Robin Shotola, Monitor Staff.
The Daniel Webster Birthplace Living History Project in Franklin depicts life as it was lived in a modest mid-to-late-18th century dwelling. Burnston, who runs the project with fellow Pennsylvania native Rachel Lehr, had lived in New Hampshire only months before proposing her project to state officials.
Burnston discovered the Daniel Webster Birthplace in a tourist brochure and immediately contacted the New Hampshire Division of Parks and Recreation, which operates the site. After raising the needed funds for the nonprofit history project, the birthplace was transformed into a living history museum that opens to the public on summer weekends.
"We feel great about it," said Norman Bushman, president of the Franklin Historical Society, which donated $2,000 to get the project started. "The Daniel Webster Birthplace had been sitting there doing nothing for several years and we got them sparked up again."
"I'm very pleased. We've gotten a great response," said Lehr, who lives in Henniker and moved to New Hampshire six months before Burnston.
Replicas of everything in the birthplace were made by state artisans for use in the hands-on projects, which include hearth cooking, spinning, dyeing and lace-making. The originals were moved into the Sawyer House, a small dwelling on the site, and are on display there.
"The object is to get people to try things, to interact with what they see," explained Burnston.
The duo also operates programs for school children in the spring and fall. One popular activity had the students chopping apples to cook over the hearth for applesauce.
The birthplace consists of two rooms: a living room/main room where hands-on activities take place, and a bed chamber. The small size is a plus, according to Burnston, who has a limited staff to assist her and Lehr.
"It makes interpreting the birthplace manageable because it is only two rooms," she said.
The dwelling does sit on a fair-sized piece of land which includes a nature trail and a chunk of woods. Burnston hopes one day to include livestock and garden beds.
"It has enormous potential," said Burnston of the project. "It will grow."
But for now, the history project operates 10 hours a weekend during the summer, with special programs available for schools during the academic year.
Even the rainy days when visitors are few are pleasurable for Burnston, who along with Lehr and her staff, dress in period clothings at the site.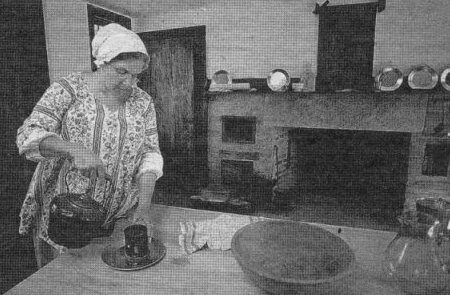 Sharon Burnston pours a cup of water in front of the fireplace at the Daniel Webster Birthplace in Franklin. Wearing 18th century clothing and doing the chores makes it easy to slip back in time for visitors.
Photo: Robin Sholota, Monitor Staff


"Those of us who do it find a different kind of pleasure on the days nobody comes," explained Burnston, saying it was easy to believe she was actually back in the 18th century when she's in the historic house wearing the clothes of yesterday.
"Living history is my true love. It's no way to make a living, so I do it as a labor of love," said Burnston, who is trained as an anthropologist with a bachelor's degree from Brooklyn College in Brooklyn, N.Y., and a master's from Temple University in Philadelphia.
When she's not working at the Franklin site, Burnston runs a mail order business selling 18th-century clothing patterns. She also gives lectures, does museum consultation work, teaches in Manchester two afternoons a week and is publishing a book on 18th-century clothing.
But it's the birthplace that's her crown jewel.
"It's a dream come true," she said. "it's just the way I wanted it."